Tips to prevent mold in your Kitchen and bathroom
12/24/2018 (Permalink)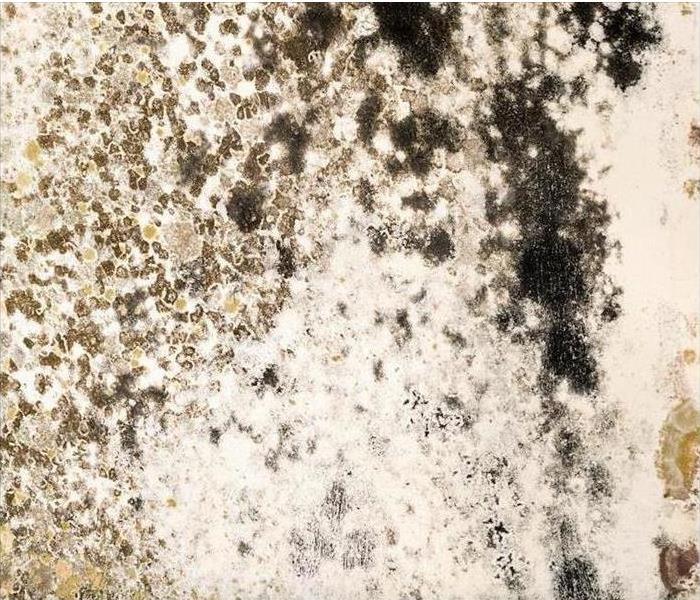 Bathroom and kitchen mold can often be very frustrating. But hopefully with these quick tips you can learn the causes of bathroom and kitchen mold and how you can prevent it.
8 Ways to help prevent mold growth in your kitchen:
Cooking and eating both require a lot of food and moisture, which makes your kitchen a top-notch room for mold growth. Food spoils, water splashes, and crumbs can get everywhere. Implement the following 8 tips to prevent mold from growing in your kitchen.
Keep surfaces dry: Mold loves moisture, so it's important to keep kitchen surfaces dry. Immediately wipe up spills on the floor, counter-tops, or table. Rinse and wipe out the sink after doing dishes. Make sure your dishes and cutlery are dry before putting them into cabinets.
Take out the trash: Leftover food, packaging, and other garbage makes your trash can a perfect place for mold to grow. Make sure to take out your kitchen garbage bin regularly to prevent mold growth.
Use the exhaust fans: Humid environments are ideal for mold. When you cook on your stove, moisture can flood the air and condensate around the area. To cut down on humidity, use the exhaust fans when you use the stove-top.
Clean the fridge: Old, spoiled food containers are one of the most common places to find mold in a kitchen. Clean out your fridge once a week to prevent food from spoiling and growing mold.
Watch your fruit and potatoes: It doesn't take long for fruit or potatoes to start growing mold, so it's important to examine all fruit and potatoes on a daily basis, especially if you don't keep them in the refrigerator.
Clear the garbage disposal: Food can gather out of site within your garbage disposal. Even if your sink drains well, you should clean the disposal regularly. Remember to run it daily to clear out the debris. You should also pour vinegar down it weekly.
Wash your cutting boards: Food particles and moisture can settle into your cutting boards, which gives mold everything it needs to grow. Use vinegar to wash your cutting boards at least once a week.
Sweep and mop regularly: It's easy for crumbs and other food particles to build up on your floor over just a few days. Sweep the floor every day, and mop it weekly.
9 Tips to reduce mold growth in your bathroom:
Mold loves dark, damp areas, which makes bathrooms an ideal environment for it to grow. Regular showers and baths keep the room moist, and various crevices provide perfect spaces for mold to flourish. However, you can help prevent mold growth in your bathroom with these nine tips.
Regularly Wash Your Rugs and Shower Curtain. These items retain water longer than other surfaces in the bathroom, so they are perfect targets for mold. Most rugs and fabric curtains can go in the washing machine, but read their tags for specific instructions. To clean plastic liners, simply soak them in your tub in either a mix of water and all-purpose cleaner or water and bleach for a half an hour. Replace these items as necessary.
Turn on the Ventilation Fan. Whenever you bathe or shower, make sure to turn on the bathroom ventilation fan. Keep it on until your bathroom is dry. The bathroom will, weather permitting, dry even faster if you open windows and doors.
Air Out the Curtain and Towels. After showering, make sure to extend your shower curtain. If it's scrunched up, it will take longer to dry, and mold may start to grow in the folds. Hang up your towels and pick up any clothes off the floor so they will dry faster as well.
Check for Leaks. Regularly examine all bathroom fixtures. Don't forget the pipes under the sink. Water from small leaks can provide the perfect breeding ground for mold.
Wipe Down Bathroom Surfaces. If you have a glass shower, make sure to squeegee the excess water off the glass panes before you hop out of the shower. Wipe any moisture accumulation off the bathroom walls and flooring as well.
Manage Household Humidity Levels. If your house is already humid, it will be more difficult for your bathroom to dry out after a shower. If your house feels humid you can use the AC or a dehumidifier to help.
Keep the Clutter Out of the Shower/Tub. Avoid storing toys, shampoo bottles, loofahs, and washcloths in the shower. These items often help retain moisture in the bathroom and all give mold an ideal location to grow and hide. Try storing bottles, washcloths, toys, etc. in wire hanging baskets, in mesh nets, or on hooks that will allow everything to drip dry.
Clean the Bathroom Weekly. Mold spores can remain dormant for quite some time while waiting for the right circumstances to grow. It's important to regularly clean your bathroom even if there are no visible signs of a problem. Scrub your toilets, counters, sinks, tub, and walls. Don't forget to dust as well. Clear out your drains as needed so water remains in sinks and bathtubs for less time.
Seal Grout Lines. If you have tile, it's important to seal grout lines once a year. This will prevent mold from growing in between your tiles. You can usually use standard grout sealer.
While implementing these tips can help prevent mold growth, mold is persistent and, with the right conditions, can grow almost anywhere. If you find mold on your property, call us so we can start the mold remediation process.
At SERVPRO of West Riverside City, we understand mold growth. We have the training and experience necessary to make your home "Like it never even happened." Call us today at 951-351-8033 or request service online.