Fire Damage in the Home You Rent in Riverside: Will Your Renter's Insurance Cover You?
11/20/2019 (Permalink)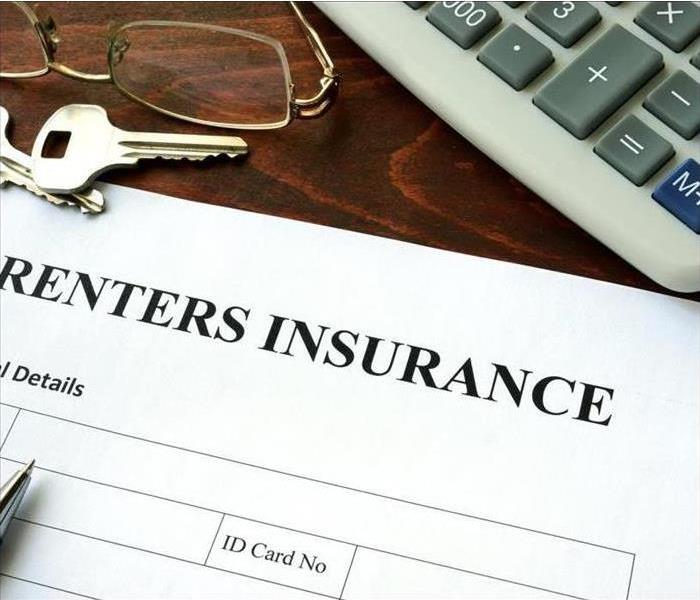 Knowing about the five major coverage areas is a good starting place. Work with your insurance agent, do your research.
Experiencing a fire in your Riverside, CA, residence can be unsettling and stressful. Understanding how your renters insurance policy will cover you can provide some peace of mind during a challenging time.
The Big Picture of Fire Coverage
Renters are covered for fire damage, but policies can vary greatly. Knowing a bit about the five major coverage areas is a good starting place.
Personal Property – This coverage allows you to be reimbursed for your personal property loss from a fire.
Liability – This benefit allows payment to others if another person sustains loss or injury as a result of your home fire.
Loss of Use – This coverage reimburses you for expenses you incur if you need to live outside your home while fire restoration proceeds.
Mandatory Evacuations – This applies if you incur living expenses or loss due to a mandatory evacuation of your home.
Natural Peril – If your fire started because of an extreme weather event or natural disaster, this provision requires your policy to cover your damages.
There are a few specific renters insurance provisions that are worthy of consideration as they may vary between policies.
Renter's Policy and Coverage Variables
As with any insurance product, it is prudent to weigh all of the factors when evaluating your current policy or a new one. Comparing coverage limits and deductibles is a good place to start. Your policy will generally cover the professional fire restoration process, but one variable that can make a big difference is the personal property reimbursement provision. Replacement value coverage is far superior as it pays for the cost of replacing your items, not just their current value. It is a good idea to confirm that fire damage will be covered even if it is secondary to an event such as an earthquake. Finally, it's important to understand whether there are exclusions or exceptions as to the cause of the fire.
If you are preemptively investigating fire insurance for renters, this information may help you shop for the best coverage. If you've experienced a fire in your residence, understanding your renters insurance may help relieve your financial concerns and make an unsettling situation less stressful.
There are many renters out there that don't understand renters insurance, or they don't think that they need it. Here are 5 myths and facts about renter's insurance. According to State Farm:
MYTH: The landlord's insurance covers your possessions. Don't count on it. Most landlords' insurance covers only the building and damages due to negligence. Coverage for some of the most common causes of property damage and loss, such as theft, vandalism, and fire, is entirely up to you. Without renter's insurance, you may have to bear the financial burden of a loss on your own.
MYTH: Renters insurance is expensive. In this case, the numbers speak for themselves. According to the IIABA, the average renter's policy costs just $12 a month for up to $30,000 in personal property coverage. That's solid coverage for less than the cost of a couple cups of coffee a week.
Still concerned about price? Your insurer will work with you to find the combination of coverage and cost that suits your needs. You might even qualify for a discount by taking some simple home safety precautions or purchasing another policy, such as auto insurance, with the same insurer.
MYTH: You don't need insurance if your stuff isn't expensive. Most renters' belongings cost more than they think. In fact the average person has over $20,000 worth of belongings that are probably not covered by a landlord's policy.
Think that number is too high? Take a moment to add up the approximate cost of your computer, television, stereo, furniture, jewelry, and clothing. If a fire gutted your apartment tomorrow, would you have the cash to replace it all?
MYTH: Renters insurance covers only your possessions. In fact, renters insurance covers much more than just your personal property. The average policy also includes up to $100,000 in liability coverage. That means in the event of a covered loss, your insurer will help cover the costs if you're held responsible for injuring another person or damaging another person's property, including our landlord's. Moreover, this coverage applies whether the incident occurred within your residence or elsewhere.
MYTH: Renter's insurance is hard to get. The internet makes getting renter's insurance easier than ever. You can research providers, compare quotes, and even find an agent online. Or, just as easily, you can place a quick call to an insurance representative. Answer a few questions and you're likely to get a rate quote almost immediately.