Wet Carpets? You Can Rely on SERVPRO of West Riverside City for Water Damaged Carpets!
5/13/2019 (Permalink)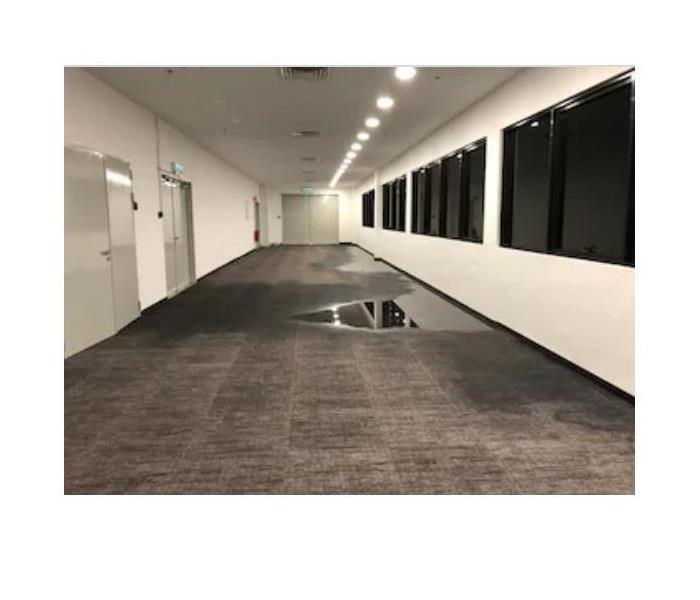 We provide emergency water restoration services 24 hours a day, 7 days a week – including all holidays.
A fast response is needed to salvage we carpet.
When your experience a water main leak, or a kitchen appliance breaks down and floods the ground floor or a pipe cracks and leaks water, a fast response is needed. Residential water damage is very common, but it can escalate quickly, so speed is of the essence.
It applies in particular to fabrics and soft items. Furniture and carpets are often the most damaged objects after a flood because they soak up water so easily. The good news is that we can rescue these materials, as long as the water damage in your Riverside home is 'clean.'
Clean water is a liquid that is from an uncompromised source; a drinking supply, a household appliance (when not used with chemicals), or rainwater. If it gets into carpets, the IICRC certified experts at SERVPRO know just how to fix it.
The Drying Method
If a relatively controllable amount of water is quickly cleaned up and steps are taken to dry the sub floor surface, padding, and carpet, then the prevention of mold and mildew growth is high. Without moisture, the organic debris within the carpeting cannot sustain mold growth.
There are three ways to dry a water damaged carpet – in place, partially lifted, or fully lifted. The technique used in your home depends on the degree of water intrusion. In the case of mild flooding, only the top fibers are wet, and the carpet remains in place.
Lifting equipment gets used when there is a high chance of water damage to the under flooring as well. The top fibers can be dried out with dehumidifiers (which extract water vapor from the material), but the sub floor is closer to the ground and less accessible.
At SERVPRO, we normally lift (float) the carpet a few inches off the ground and suspend there. It allows the technicians to place portable fans and air movers underneath. They direct the clean, dry air from the dehumidifiers beneath the carpet and speed up the drying process.
The Repair Process
In some cases, the water causes the backing of the carpet to come loose. It is something that we may be able to fix if the problem is limited to small sections of the floor. If the structure of the carpet is in an extremely unsuitable condition, we would advise a full replacement.
Natural fibers usually respond very well to drying, as long as the issue is addressed quickly. However, if the water intrusion originated from a 'black' source (containing sewage or chemicals), there is no chance of repair. It is not safe to retain the flooring, and it requires removal, but this is a relatively uncommon situation. Wall-to-wall carpeting must first be released from the tack boards. SERVPRO technicians can work with the carpets and padding to ensure complete drying by utilizing special pumps, wet-vacs, and dehumidifiers. This drying out process may take from several days to several weeks depending on the amount of water intrusion and the speed of extraction. Evaporation can only go so fast though we expedite the process with state of the art dehumidifiers.
Now that we have dried the carpets and area, do we need to clean them and why?
Yes, even though you have taken all the right measures to correctly dry out your carpets after having experienced water damage, you still really should make the effort to clean your carpets. Cleaning can be completed by steam cleaning them and by cleaning the back of the carpet with a disinfectant to stymie the growth of mold.
Do we need to sanitize the carpets after we try to dry them?
Of course, by having SERVPRO spray an antimicrobial product to the carpet and the padding (if it was rescued) it will lessen the chance of infections and diseases. If the carpets were covered with contaminated sewage or ground rising water, called Black Water, there is only one option. Our technicians will safely wrap and dispose of the carpet and padding and then proceed to sanitize the sub floor.
When the extent of water damage to a carpet encompasses a large area, the best call is to SERVPRO. Our skilled IICRC trained technicians will utilize all the equipment and expertise required to restore your carpet "Like it never even happened."
SERVPRO of West Riverside City is a local water damage cleanup and repair service. We help homeowners in the Riverside area and surrounding cities to restore their properties after flooding and residential leaks. Our repairs are fast, effective, and leave homes spotless.
Flooding or Water Damage? Call Us Today – (951) 351-8033
24-Hour Emergency Water Removal Service
Flooding and water emergencies don't wait for regular business hours and neither do we. We provide emergency water restoration services 24 hours a day, 7 days a week – including all holidays. Riverside residents can expect an immediate response time, day or night.