Water Damage Inspection at City Landmark Home of Rosie Bonds
11/2/2020 (Permalink)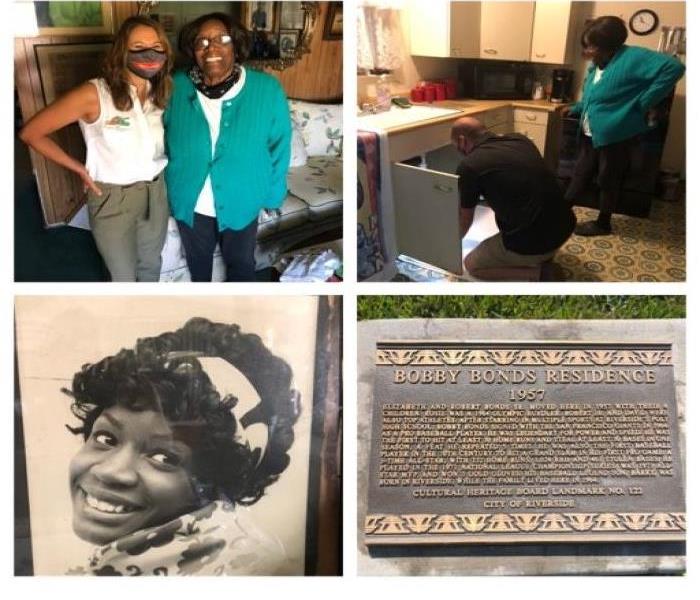 Photo of technician inspecting underneath sink, Marketer Letty with Rosie Bonds, High school photo of Rosie Bonds, Front yard landmark.
SERVPRO of West Riverside had the pleasure of meeting Rosie Bonds former Olympic hurdler.
We received a call from her agent My Tran of Farmers Insurance in Riverside of water damage asking if we could help Rosie out by inspecting the damage.
We sat down and chatted with Rosie about her family home in Riverside and the "hurdles" she's endured during her life. Rosie was raised in Riverside, California. Rosie's father worked on the homes built in the neighborhood of her family home in 1956, and purchased it in 1957. She referred to it as, "a middle class house back in 1956, but it's small now… and although it is old, it's made very well." With 4 children and 2 adults in a 3 bedroom home they managed as a family. She compared homes back then to nowadays, "where rooms are large and homes are larger than life". Everything in the house from furniture to flooring is original, her mother didn't want any changes made and also emphasized they could never sell the house. I was sitting on a sofa that had been with the family since the 1940s and very well taken care of. She has plans to update some things, but everything costs money.
Outside, you see an ordinary humble home with a chain link fence and a green lawn. The house was declared a city landmark in 2009. You can read the inscription on the stone in the front yard, reading, "Bobby Bonds Residence 1957- Elizabeth and Robert Bonds Sr. moved here in 1957 with their 4 children. Rosie, was a 1964 Olympic Hurdler. Robert Jr. and David were also top athletes. After starring in multiple sports at Riverside's Poly High School, Bobby Bonds signed with the San Francisco Giants in 1964. As a pro baseball player, he was legendary for power and speed. He was the first to hit at least 30 home runs and steal at least 30 bases in one season, a feat he repeated 5 times. He was also the first baseball player in the 20th century to hit a grand slam in his first pro game. A three time All-Star, with 332 home runs, 1024 RBIs and 461 stolen bases, he played in the 1971 National League Championship Series, was 1973 All-Star MVP and won 3 Gold Gloves. His baseball legend son, Barry, was born in Riverside, while the family lived here in 1964. Cultural Heritage Board Landmark No. 122 City of Riverside." Rosie is proud of their family home and says, "We've had some beautiful days here, beautiful days."
Rosie who was once an Olympic hurdler, set several national records in the hurdles; won the national outdoor hurdle championship (1963, 1964), and competed internationally, represented the U.S. in the Tokyo Olympics (1964). After retiring from athletics, she started a career in nursing. She became a licensed vocational nurse working in the Bay area and traveled back and forth to Riverside to care for her mom. In 2002 she was disabled in a car accident that left her without a job and without a home; she remained homeless living out of shelters and her car for several months. Her injuries from the car accident left her destitute. Rosie has a great outlook on life, she has overcome many struggles. In speaking with her she still has so much to offer. She runs Bobby Bonds day for kids in the area (although due to COVID it was canceled this year), she delivers food to those in need and she speaks openly about life's hurdles. Truly a pleasure speaking with Rosie Bonds!