Why Professional Bio-Hazard Clean-Up Is Important
1/9/2019 (Permalink)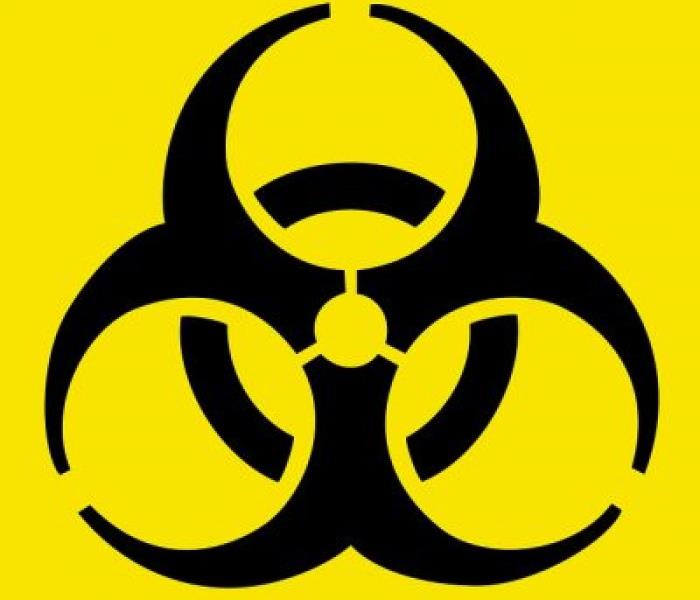 Bio-hazard contaminants should be considered very dangerous as they can pose a serious health risk.
Hazardous biological materials are very dangerous. They include blood-borne pathogens, microorganisms that live in sewage, and chemicals left behind from producing illegal drugs. In order to make spaces livable again where sewage backups, violent crimes, and drug production have taken place, you need professional bio-hazard clean-up.
If you need professional bio-hazard clean-up in West Riverside City, contact the experts at SERVPRO today by calling (951) 351-8033.
Advantages to Calling in the Pros
Why not just clean up the area yourself? There are many reasons why it's important to seek professional services.
Exposure to bio-hazards could have serious health consequences
The bacteria, viruses, fungi, parasites, and other pathogenic substances found in biological hazards may be inhaled, swallowed, or permitted to enter the body through damaged skin or mucous membranes. Exposure can happen whether you try to clean up the scene yourself or simply enter the vicinity. Bio-hazard exposure is linked to several health consequences:
Skin irritation: Direct contact with bio-hazards could cause a rash.
Allergies: Even if you aren't already allergic to any fungus, mold, dust, enzymes, or mites found at a bio-hazard scene, exposure to it could cause you to develop an allergy that stays with you for the rest of your life.
Infections: Tuberculosis, AIDS, and hepatitis are just a few infections you could contract if a bio-hazard scene isn't cleaned up thoroughly.
Poisoning: Potentially toxic concentrations of toxic materials could cause poisoning.
Cancer: Hazardous chemicals are the most likely bio-hazards to have the potential to cause cancer.
The clean-up process is carefully considered
Clean-up crews don't jump into the restoration process until they carefully assess the situation and determine the fastest and most thorough way to go about it. Bio-hazard clean-up usually takes one day or less.
Bio-hazard clean-up crews are specially trained
Clean-up personnel are educated on the best ways of cleaning, disinfecting, and deodorizing a bio-hazard area to make it livable again. Proper training goes beyond learning how to safely remove bio-hazards from an area; it also includes how to dispose of these substances in proper accordance with the Occupational Safety and Health Administration (OSHA) and local health regulations.
Professionals have the right tools and protective equipment
Different clean-up situations require different equipment, and professionals understand that. They come equipped with face protection, personal respirators, protective gloves and clothing, sturdy boots, and any other gear needed for the particular situation. Then, they use disinfecting and deodorizing products to leave the scene as good as new.
Professionals understand the legal requirements of bio-hazard clean-up
Because bio-hazard clean-up is a dangerous job, it's important to put liability in the hands of a professional bio-hazard removal company. They perform all the necessary safety protocol to reduce worker risk and abide by state sanitary codes so you don't have to.
Bio-hazard Emergency Tips - Until Help Arrives Guide
After any bio-hazard or sewage contamination in your home or business, your primary focus should be safety:
Is it safe to stay in the house?
Exposure to biological and chemical contaminants can pose serious health consequences.
Flood water can contain sewage, pesticides, and other contaminants.
Only do activities that are safe for you to perform.
What to Do After a Contamination
Stay out of affected areas.
Call emergency service personnel if the situation is life-threatening.
Treat all bodily fluids as if they are contaminated.
Turn off the HVAC system if there is sewage damage.
What Not to Do After a Contamination
Don't leave wet fabrics in place. Hang furs and leather goods.
Don't leave books, magazines, or other colored items on wet carpet or floors.
Don't use your household vacuum to remove water.
Don't use television or other household appliances.
Don't turn on ceiling fixtures if ceiling is wet, and keep out of rooms where ceilings are sagging.
Contact SERVPRO of West Riverside City When You Need Professional Bio-Hazard Clean-Up
Dealing with a bio-hazard scene is stressful. Take some of the worry away by choosing SERVPRO of West Riverside City to conduct the clean-up and restoration process.
24 Hour Emergency Service
Bio-hazards like flood water or sewer backups should be considered an emergency and dealt with as quickly as possible. SERVPRO of West Riverside City has water damage restoration specialists and has specific training and expertise to safely remediate bio-hazard contaminants.
SERVPRO of West Riverside City proudly serves Riverside and all surrounding areas.
Contact us online or by phone at (951)351-8033 to schedule your bio-hazard clean-up.