Preparing for Santa Ana Wind storms in Riverside
2/13/2019 (Permalink)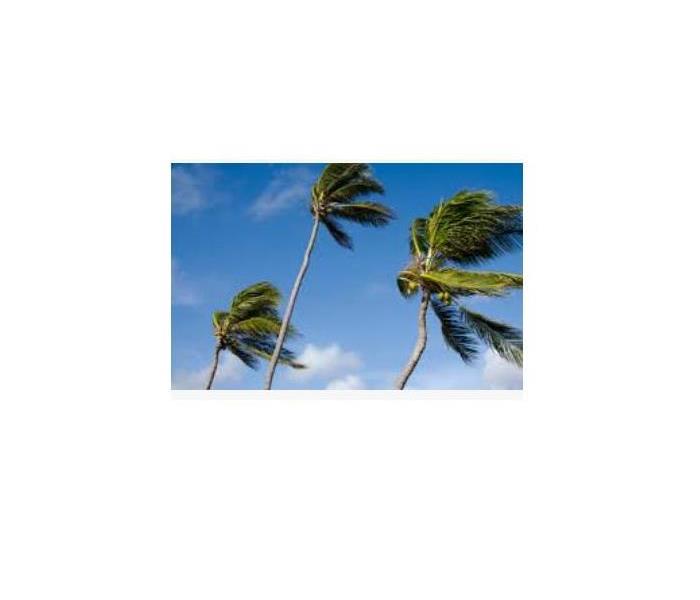 Santa Ana winds can occur at any time!
The Santa Ana winds are strong, extremely dry downslope winds that originate inland and affect coastal Southern California and northern Baja California. They originate from cool, dry high-pressure air masses in the Great Basin.
Santa Ana winds are known for the hot, dry weather that they bring in autumn (often the hottest of the year), but they can also arise at other times of the year. They often bring the lowest relative humidities of the year to coastal Southern California. These low humidities, combined with the warm, compressionally-heated air mass, plus high wind speeds, create critical fire weather conditions.
If you live in a place prone to windstorms or you know one is coming, then pay close attention to what it takes to prepare. If you currently have a damaged roof or any sign of a roof leak, then your home may not be sound enough to withstand a windstorm. You need to take proper precautions. This may mean repairing any weak areas or covering them so they do not get worse. Here is a list of what you should look out for:
• Broken skylights
• Cracked windows
• Damaged siding
• Missing shingles
Wind Damage
A windstorm may cause a variety of problems to your business or home. On one hand, it may blow off shingles, throw debris at your home or lead to damaged siding. You need to be prepared for just about anything. Not only can the wind cause damage, but the debris the wind brings with it can also. Hard objects can knock shingles off, and large trees may break through your roofing entirely. All of this can lead to a roof leak and further damage.
Cleanup Process
Once the wind has done its damage, it's time to pick up the pieces. For any damage done to the roof, tarps can be used to cover gaps created by the missing shingles. These tarps will help keep rain from entering your business while you work on restoration. You want to make sure that you do not have any further water damage. Additionally, you can use plywood to cover the holes on the roof. While repairing the building is one thing, you also want to make sure no other issues arise.
A windstorm can cause costly, extensive damage to your Riverside home or business. The best course of action is to reduce the risk wind can cause. Whether you have a roof leak or something more dangerous, don't let any problems sit until they get worse. In some cases, a professional service may be helpful.
When Is Wind Damage Covered By Homeowners Insurance?
Windstorms are among the perils generally covered by homeowners insurance. Some homeowners policies exclude coverage for wind damage, though. It's a good idea to read your policy to learn whether it includes coverage for wind damage.
If your homeowners insurance policy includes coverage for windstorms, two types of protection may help you after a windstorm damages your home:
Dwelling coverage, which helps protect a home's structure, may help pay for repairs if wind damages your home's roof, siding or windows, for example.
Personal property coverage may help pay to replace the contents of your home if they are damaged by wind -- or by rain, snow, sleet, sand or dust that the wind drives inside after damaging your home's structure.
If your home has sustained damage due to a windstorm, call your neighborhood SERVPRO of West Riverside City. Whether a tree has fallen on your home or you see signs of leak due to damage to your roof from winds, we are here to help!