What to do when smoke and ash invade your Riverside home.
9/9/2020 (Permalink)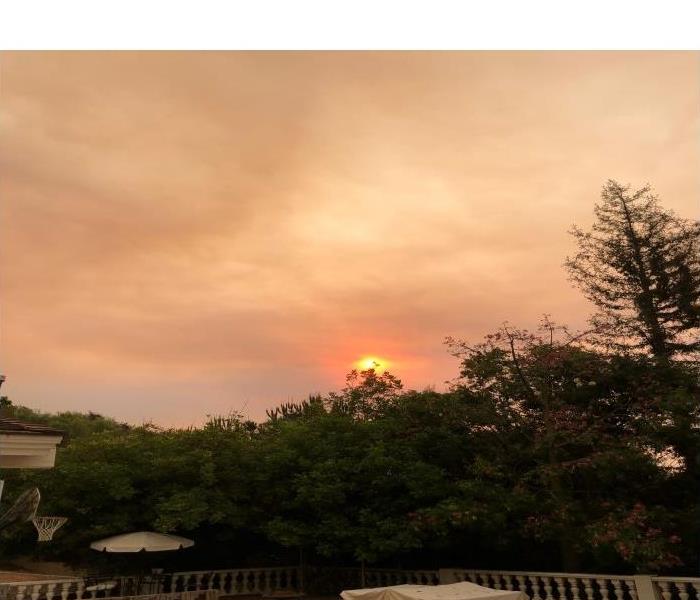 In the wake of a fire that has covered homes with smoke and ash, it's important to begin cleanup as soon as possible.
SERVPRO of West Riverside, CA is an IICRC firm. The Institute of Inspection, Cleaning and Restoration Certification (IICRC) creates the standards for the restoration industry and provides training and certification to restoration companies. IICRC Certified Firms have the right to display the IICRC Certified Logo.
IICRC has many tips and suggestions for consumers. Please consider the following information from the IICRC regarding fire and smoke restoration:
In the wake of a fire that has covered homes with smoke and ash, it's important to begin clean up as soon as possible in order to prevent permanent damage or discoloration from soot residue. The IICRC provides the following tips for fire victims facing clean up:
Safety is most important. Wear an N-95 ANSI-approved dust mask (like a
painter's mask) and work gloves during cleanup.
Ventilate the home. Place a box fan in an open window to draw
smoke-odor laden air and char out of the building.
Replace ventilation filters as soon as possible, then run the ventilation system to filter-out smoke-related particles.
Clean the exterior of the building of fire-damaged debris, smoke and char particles. Exterior cleaning includes washing off the building, sidewalks, driveways and decks with detergent and fresh water scrubbing followed by rinsing.
Clean the interior by dry HEPA (High Efficiency Particulate Air), vacuuming the ceiling, upper and lower walls and then flooring. In some situations, detergent wet cleaning must be applied to remove a smoke film which impacts and absorbs onto surfaces.
Vacuum contents and upholstery. Make sure your house or building vacuum is HEPA rated, otherwise, you risk blowing smoke and soot into the air.
Draperies, clothing and machine-washable items such as towels
may be dry cleaned or laundered.
Unless the upholstery manufacturer says otherwise, use a mild alkaline cleaner to neutralize acid in smoke, soot, char and ash.
Most exterior walls (brick, stone, wood, paint, siding) and eaves can be cleaned by spraying with a detergent, agitating soot with a soft-bristled brush, pressure washing from bottom to top, then rinse from top to bottom.
When smoke and soot damage and residue is moderate or heavy, or you cannot complete smoke and soot odor removal on your own, consider hiring a professional who is certified in fire and smoke damage restoration to cleanup and restore your home or business and belongings.
Check with your insurance provider to determine if smoke damage from outdoor sources is covered under your policy. Insurance companies can often provide a list of credible restoration companies from which property owners can choose.
If the fire has warped or distorted the structure, consult a general contractor who can also be found in the IICRC list of approved restorers.
Reduce smoke exposure outdoors
Take it easier during smoky times to reduce how much smoke you inhale. If it looks or smells smoky outside, avoid strenuous activities such as mowing the lawn or going for a run.
Know your air quality. Smoke levels can change a lot during the day, so wait until air quality is better before you are active outdoors. Check your state or local air quality agency's website or airnow.gov for air quality forecasts and current air quality conditions. On AirNow, you can also sign up to get email notifications, download an air quality app, or check current fire conditions. In addition, some communities have visual range programs where you can assess smoke conditions by how far you can see.
Have enough food and medication on hand to last several days so you don't have to go out for supplies. If you must go out, avoid the smokiest times of day.
Reduce smoke in your vehicle by closing the windows and vents and running the air conditioner in recirculate mode. Slow down when you drive in smoky conditions.
Do not rely on dust masks or bandanas for protection from smoke. If you must be out in smoky conditions, an N95 respirator can protect you, if it fits snugly to your face and is worn properly.
Have a plan to evacuate. Know how you will get alerts and health warnings, including air quality reports and public service announcements (PSAs). Public advisories can provide important information such as changing smoke conditions and evacuation notices. Know your evacuation routes, organize your important items ahead of time, and know where to go in case you have to evacuate.
Professional restoration technicians know that damage increases and restoration costs escalate the longer neutralization, corrosion control and cleaning is delayed. When homeowners prolong the restoration of their home, they extend the effects brought on by the smoke exposure.
When hiring a fire and smoke removal professional in your area, make sure that the technician is a certified Fire and Smoke Restoration Technician (FSRT) to ensure they are educated on the latest techniques for proper remediation. In some cases, a mold remediator may also be necessary as the volume of water used to combat fires can result in an abundance of standing water within a property, leading to mold growth.
For more details, visit https://cdn.ymaws.com/www.IICRC.org/resource/resmgr/docs/112018_cawildfiredoc.pdf
Need a professional? Call SERVPRO of West Riverside City 951-351-8033 today. We are here to help 24/7.
You can follow us on Facebook: https://www.facebook.com/westriverside/