Rain Season is Coming up for Riverside County, Are You Prepared?
10/19/2020 (Permalink)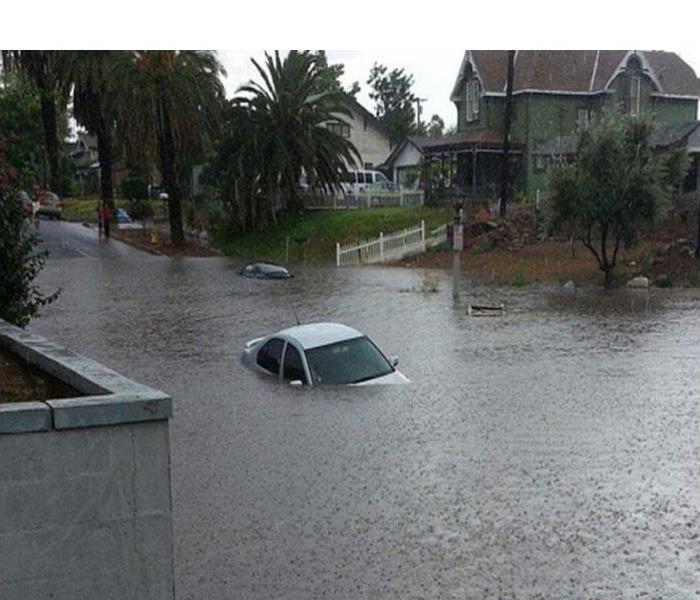 Although we don't get mass amounts of rain to cause this type of flooding in Riverside, we do get flash floods that can cause damage.
The chance of wet days in Riverside varies throughout the year. The wetter season lasts 4.2 months, from November 25 to April 1, with a greater than 10% chance of a given day being a wet day.
Though the rain itself usually doesn't cause structural damage, any water that leaks into a home through gaps in the roof or walls can lead to messes that can be costly to clean up. This water can also lead to damage to walls, ceilings, and floors; as well as mold and mildew problems throughout a home. Also, too much rainwater in a short period of time can overload gutters, causing the rain to fall onto the ground where it can damage the foundation over time. (And of course, rain tends to cause flooding, which has its own problems.)
Clean out roof gutters and downspouts. Clogged gutters allow water to back up onto your roof, increasing the chance of water intrusion into your home or business.
Remove loose debris from your yard. Debris, such as fallen tree limbs or unsecured lawn furniture can become dangerous during heavier winds. These items can cause structural damage, such as broken windows, which can lead to water intrusion in your home.
Know Your Zone. Determine your flood zoning and prepare appropriately. If you live in a flood prone zone, preparing sandbags may be necessary to help protect your structure.
You may be asking yourself when you should replace your roof. Maybe you live or work in an older building, and you know it will become necessary at some point. Perhaps you have seen some water stains in your attic or you have just gone through a season of really heavy weather and some shingles have disappeared. Today we are going to share some things to think about as you decide when you should replace your roof.
Even though it is sunny out and the skies are blue, fall is here along with the rainy season just around the corner. If you have not already been thinking about preparing your home for the rain ahead, now is the perfect time. A simple roof cleaning and maintenance checkup can go a long way to prevent disaster from striking this winter.
A skilled roofing technician can catch things as simple as a loose shingle, or as unexpected as an exterior mortar repair around your chimney. Finding these areas of need now, before the rain exposes the problem and causes more damage, can save you money and potential repairs later down the road.
Think of it this way, do you winterize your boat or RV in preparation for the season? Your roof is no different.
A good seasonal checkup should include the following:
- Broom clean roof surfaces
- Probe all welded seams to ensure proper seam condition (Low slope systems)
- Inspect and renew any caulking, cut edge sealant, etc.
- Access exterior condition of penetrations such as skylights and chimney
- Provide brief photo report to client upon completion of service
- Provide any recommended repairs, if any.
If your home or business experiences a water damage loss, know that SERVPRO of West Riverside City is Here to Help. Our experienced team offers emergency water damage response, 24 hours a day, 7 days a week, allowing us to arrive quickly to begin mitigating the damages.
For more information about our services, call 951-351-8033